Publicado el 12 julio, 2013 por Migue90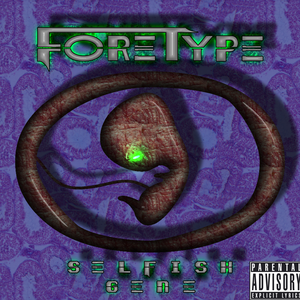 Band: Foretype (Ex-Embryo)
Album: Selfish Gene
Year: 2013
Genre: Nu-Metal, Industrial,  Rapcore, Mosh-Core, Horror Metal.
Country: Italy
Information:
Foretype is a metal band formed by:
Andrea Dimitri – Vocals, Lyrics;
Francesco Fiori – Guitars, Back Vocals;
Valerio Pappalardo – Bass;
Milo Silvestro – Drums, Programming / Guitar and Bass (studio).
The story of the band starts in Ostia, the seaside of Rome, in 2008. Since their meeting in 2006, Andrea Dimitri (vocalist, drummer) and Milo Silvestro (drummer, percussionist) have been sharing several music projects, such as "Alias", a hip-hop/electronic duo in which both guys were creating beats and mixing a lot of different music genres. In particular, Milo was programmer and turntablist (studio and live) and Andrea was the singer.
But the two realized very soon that they needed something else to express their feelings and their artistic vein. Something heavy, angry, groovy and deep in which they could give their best.
This led to the creation of "Embryo" (the first name used by Foretype). In 2013 the name was changed for the current one, due to the existence of an old German band which beared the same name.

Andrea Dimitri and Milo Silvestro are the creative members of the band. Their first album is called Selfish Gene, as a tribute and conceptual reference to biologist Richard Dawkins' homonymous book.
After some attempts to complete the formation with other members, Foretype finally became stable in 2012 when they met guitar player Francesco Fiori. In early 2013, bassist Valerio Pappalardo joined the band.
Bass lines and guitars are recorded by Milo.

Foretype's lyrics are meant to be an exploration of strong feelings, whether they are painful or relieving, concerned or cynical. In fact, as the name of the band clearly suggests, the scope is to experiment. The songs deal with anger, sadness and sickness, but also with positive feelings and intentions. The language is mostly aimed at specific targets, in a very direct way. However, it sometimes becomes more introspective, deep and meditative. Both abstract, eerie contexts and everyday practical situations are present in the concepts of the songs.

Foretype are against all forms of religion, especially organized religion. The band strongly believes that people should be free from religions, as well as from superstition, ignorance and all forms of brainwashing.
SOUND AND INFLUENCES: Foretype like considering themselves as Nu-Metal, since this is their most fundamental influence. Evidence of it can be found in their use of rap vocalism, groovy syncopated and polyrythmic drumming and powerful, super downtuned guitar riffs which often consist of minimal phrases.
The electronic music background of drummer Milo Silvestro brought Foretype's sound to include industrial and acid techno elements, wide textures of synthesisers, samples and electronic loops. The use of dark atmospheres gives the band a Horror Metal taste.
Also, there is a clear Mosh-Core influence in Foretype's style, namely the occasional use of fast double-kick, mosh parts and oddments of blastbeats.
Vocals alternate between a multiform screaming and growling, rapping, laments, sick whisperings, spoken word and clean singing.
FORETYPE USE: Shure mics, Ufip and Pasha cymbals, Tama and Pearl drums and gears, Roland samplers and electronic drum gears, FL-Studio, Cubase, Schecter guitars, Ibanez and Yamaha basses, Boss and Digitech effect processors.[/wpex]
Tracklist:
1. Damage control
2. Angels fall asunder
3. Living shadows (Escuchar)
4. Fool (Escuchar)
5. Shut the fuck up (Escuchar)
6. Cyborg
7. Delirium
8. Who let the dogs out (metal cover)
9. One day you cry
10. Vehement passion (Escuchar)
11. The scourge
12. A special portrait
¡¡ SI EL ENLACE NO FUNCIONA BUSCA OTRO LINK EN NUESTRA LISTA (PDF) !!